Cake Flavors and Fillings
Spectacular Cakes by Vivian
Spectacular Cakes
913-432-4645
Cake & Filling Flavors
Cake Flavors:
Banana
Butter Chocolate
Butter White
Chocolate
Chocolate Chocolate Chip
Chocolate Raspberry Chip
Dark Chocolate
French Vanilla
German Chocolate
Marble
Cherry Chip
Pumpkin
Red Velvet
Strawberry
White Chocolate
White
Butter
Butter Pecan
Carrot
Chocolate Fudge
Yellow
Devil's Food
Caramel
Lemon Butter
Milk Chocolate
Key Lime
Raspberry
Spice
Creme Fillings:
Chocolate Bavarian
Chocolate Chip Bavarian
Chocolate Mint Bavarian
Chocolate Bailey's Bavarian
Kahlua Mocha Chip
Amaretto Bavarian
Vanilla Bavarian
Rum Bavarian
German Chocolate Filling
Peanut Butter Bavarian
Chocolate Bailey's Bavarian with Bananas
Kahlua Mocha Bavarian
Triple Fudge
Fruit Fillings:
Lemon
Strawberry
Raspberry
Cherry
Banana
Apple
Strawberry & Banana
Pineapple
Apricot
Peach
Blueberry
Coconut
Raspberry Bavarian
Minimum Delivery and Set-up fee of $40.00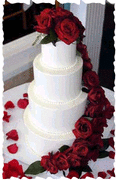 Icings include:
Frostings
Buttercream (light tint of yellow)
Chocolate Buttercream
Chocolate Ganache
White Rosette (pure white)
50/50 (part buttercream part rosette - Candlelight color)
Fondant (tinted any color)
Non-Dairy Whip Cream (Winter Months Only)

BUTTER CREAM
Spectacular Cakes is famous for our Butter Cream icing. All of our birthday cakes are iced with Butter Cream icing. The ingredients are butter, margerine, vanilla and powder sugar. Because the ingredients are yellow the icing has a yellow cast to it. We can not color our Butter Cream to be white. The flavor is delicious. The icing melts in your mouth with no greasy after taste.
ROSETTE ICING
Spectacular Cakes rosette icing is made from pure vegetable shortening, powder sugar and water. The color of our rosette icing is white. This would be the icing that you would get if you purchased a cake from most bakeries. The taste is a little sweeter than our butter cream. The rosette Icing can be colored to all pastel shades and most dark shades.
50/50 BLEND
The 50/50 Blended icing is the most popular with our brides. The reason is because you get the delicious taste of Spectacular Cakes Butter Cream mixed with the color of the rosette icing. The taste is still delicious. The icing is a little less rich and the color is a little less yellow than the Butter Cream icing. The color of the 50/50 icing is candelight (light cream). About 95% of our wedding cakes are iced with the 50/50 icing.
FONDANT
Fondant icing is a cooked sugar icing. Most people confuse fondant with marzipan which is made from almonds. There is no taste to the fondant other than a sweet taste. The consistancy is delicate but a little chewy. To use fondant icing the cake must first be iced with a choice of the three icings above. The fondant then is draped over the icing and smoothed. The benefit of working with fondant is the smooth texture. When you look at a fondant cake vs. a cream iced cake you will notice how the outside looks like a shell. The other benefit is that you can achieve more of a 3D look with fondant as the decoration stands up off the fondant better. You will also notice that most cakes iced with fondant have less decoration on them. This is a case where less is better. You don't want to take a beautiful fondant cake and cover it with all sorts of flowers, icing decoration or trim. Part of the beauty is the simplicity of the cake. Fondant iced cakes cost an additional 25%. Some cakes iced with fondant can also be done with a cream icing and still have the same beautiful look.
WHIP CREAM
Spectacular Cakes uses 100% Anderson Dairy Whip Cream on our dessert and birthday cakes. But, we do not use Whip Cream to ice wedding cakes. Whip cream is too perishable to sit out for the average length of time necessasary to transport and display a wedding cake.
CHOCOLATE GANACHE
Ganache is a delicious chocolate icing. Ganache does not harden like a shell on a dipped ice cream cone. Ganache has beautiful sheen to it. The decorating on Ganache is limited because it is soft and most decor is heavy and will not adhere to the texture.
This cute puppy is iced in 50/50 Buttercream. Ears and nose is fondant.